• Latex loop band elastic rubber loop bulk resistance bands wholesale
• Resistance bands are 41" inches long and are made of high-quality latex material built to last for years.
• A variety of exercises can be performed - for physical therapy, rehabilitation, pull-ups, stretching, strength training, powerlifting and etc.
• Strong strength and excellent elastic resistance bands.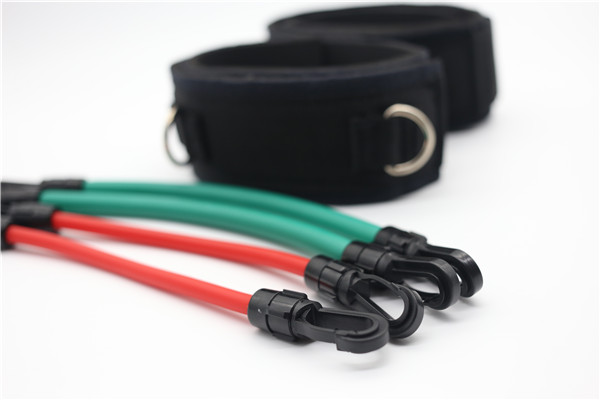 Specs

Length*thickness*width

Color

Weight of each

Resistance level

Packing details

In Kg

41`x0.177``x1/4``

104cmx4.5mmx6.35mm

Yellow

0.09

5-10 lbs

100pcs/ctn(63x28.5x18.5)

41`x0.177``x1/2``

104cmx4.5mmx 12.7mm

Red

0.1

15-25 lbs

100pcs/ctn(63x28.5x18.5)

41`x0.177``x13/16``

104cmx4.5mmx 20.6mm

Black

0.15

50-75 lbs

70pcs/ctn(63x28.5x18.5)

41`x0.177``x1.25``

104cmx4.5mmx31.75mm

Purple

0.25

100-120 lbs

50pcs/ctn(63x28.5x18.5)

41`x0.177``x1.75``

104cmx4.5mmx44.5mm

Green

0.35

120-175 lbs

35pcs/ctn(63x28.5x18.5)

41`x0.177``x2.5``

104cmx4.5mmx63.5mm

Blue

0.55

175-230 lbs

25pcs/ctn(63x28.5x18.5)

41`x0.177``x3.25``

104cmx4.5mmx82.5mm

Orange

0.7

230-250 lbs

15pcs/ctn(63x28.5x18.5)

41`x0.177``x4``

104cmx4.5mmx101.6mm

Black

1

250-270 lbs

10pcs/ctn(63x28.5x18.5)
Other services
we can provide you below services if you need:
• we can provide vacuum package;
• make stickers and put them on the pp film;
• make paper box or kraft paper box;
• make insert card or instruction book;
• print your shipping marks on the cartons;